Click image to enlarge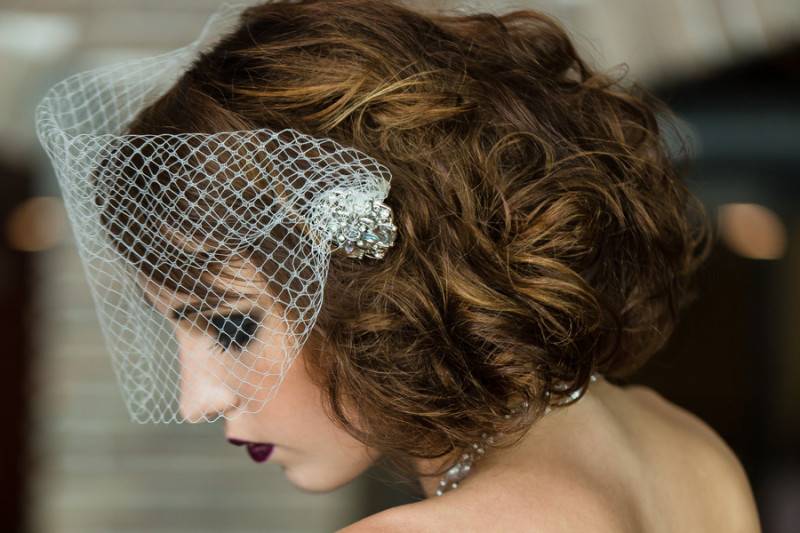 Like. Click to Vote
>
There's just so many things a bride and her bridesmaids can get and drool over from this styled shoot. From hair pieces, gowns, bouquets, accessories, and shoes, we have so much to show you readers. And they even added an elegant table setting and a quirky but fine looking groom ensemble. But this shoot is really heaven sent to brides and brides to be, and it doesn't matter if your style is traditional or edgy, this feature got you covered. Enjoy!
Event Designer
Many brides choose to evoke the vintage style of weddings-gone-by with burlap runners, peony-packed mason jars, and mercury glass. Vintage also inspired our shoot, but in a different way. Our goal was to bring the timeless silver screen elegance into present-day couture, honoring the classic beauty of the 1940s while giving it a sensual edge. Creative director/Style & Image Strategist, Autumn L. Ingraham of Amazing Looking Image states, "I pulled together a team of top Tampa Bay wedding professionals to capture not just the glamor and intimacy of my vintage vision, but also the underlying passion I believe is at the core of every celebration of love".
To recreate the sensual elegance of Old Hollywood in our styled shoot, we focused on texture, shape, and contrast to create drama in everything from the models' elegant hairstyles and accessories to the bouquets and table arrangements. The photographer specializes in using natural light which, in our speakeasy-style bar, created moments of warmth and softness.
Our brides are strong women with a classic feel, but from there, they diverge. One is a siren who speaks volumes with every bold, smoky-eyed glance. The other bride is doe-eyed and vulnerable, yet feisty and alluring. The makeup artist and hair stylist worked together to translate 1940s glamor into modern day chic. We completed their looks with glamorous gowns, exquisite jewelry and couture accessories evocative of classic romance.
Autumn talks about the creative process, "From the photographer working seamlessly with natural light to capture both beauty and emotion, to the hair stylist and makeup artist brushing together old-fashioned femininity with current couture, I directed the best possible team to create this glamorous moment in time.

Vendors
Photographer:  Rising Lotus Photography
Dress Designer:  All Brides 2 Be & Formalwear
Event Designer:  Amazing Looking Image
Transportation:  BLU Moon Transportation
Floral Designer:  Burlap And Bling Design Studio
Model:  Chelsey Nicole
Jewelry:  Continental Wholesale Diamonds
Model:  Destiny Maxon
Other:  Diace Design
Favors and Gifts:  Ella Bing
Makeup Artist:  Katherine Quiel makeup
Hair Stylist:  Laurie Rhead
Model:  Michael Giordano
Veils and headpieces:  Monstrusite
Restaurant:  Moscato's Bella Cucina
Design and Decor:  Tantalizing Tablescapes & Decor, LLC