Before you start scavenging for those Easter eggs, here's an Easter inspired wedding for you to read on. Eduardo and Katherine got married during Easter and decided to incorporate that into their big day. A lot of pastels and dainty decors can be seen all throughout the venue. It was a day full of whimsy and love. Katherine's bridesmaids wore floral printed instead of the usual plain one color dress. A lot of things in this wedding had me in awe and gave me warmth. Eduardo and Katherine's wedding will surely make you forget about the cold winter weather. Congratulations on tying the knot E & K! And thanks to Brittany Kushner, we have excellent photos of their wedding to show you.
Click image to enlarge
1

Like. Click to Vote
>
Album Story:
Kate & Eduardo are both in the Navy, and they initially met at Guantanamo Bay. Kate & Eduardo tied the knot at their gorgeous wedding at Green Gables Estate in San Marcos. What an amazing venue and perfect day. This was the perfect place for these two- it's mostly all inclusive and the venue does a lot of the work for you. They even have a whole room filled with glittery vintage goodness for you to use to decorate their space. If you are looking for a more hands-free experience, Green Gables Estate is perfect. Since Kate & Eduardo both have crazy schedules, this was perfect for them! Hiring great vendors and using an all-inclusive venue relieved some of the wedding planning pressure for them, and still allowed them to have the grand soiree they were dreaming of.
This wedding was a modern masterpiece. Inspired in part by the holiday that it was taking place on, Easter, every whimsical detail was perfectly styled. Kate has such a great sense of style that came through in all the little details throughout the wedding day.We began the day with the girls, who were getting ready in the very decadent bridal suite at Green Gables Estate. Kate wore a gorgeous lace bridal gown and some show-stopper jeweled flats by Boden. I adored her jeweled clutch by Anthropologie the perfect bridal accessory! Kate & Eduardo are both in the military, and Eduardo wore his uniform on the big day. I love the gifts that Eduardo gave his groomsmen- custom tie clips that they could wear for the wedding.Their reception was held at the same venue, inside a covered tent. Bouquets by Bon did an incredible job on all the florals- I was a huge fan of the piece behind the sweetheart table. All the flower choices were very romantic and so beautiful. Enjoy all the details and inspiration from this sophisticated garden wedding!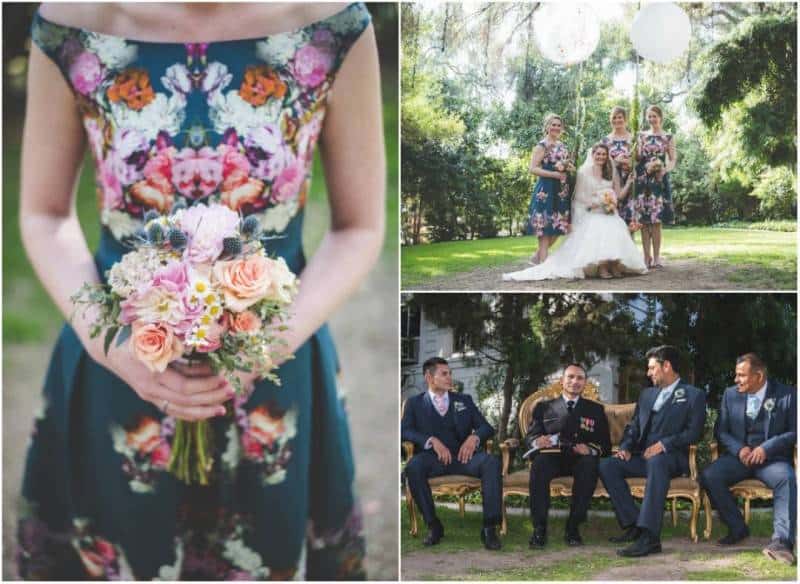 The Theme:
These two got married on Easter. They wanted to incorporate that into the styling of the day, so they went with a whimsical spring theme – perfect for their garden estate venue. Their inspiration was so tastefully applied – I loved the lace and bunny details.
The Do-It-Yourself (DIY) Projects:
I don't think Kate took on very much in the way of DIY- she is a doctor in the Navy, so she is as busy a bride as they come. This couple loved the all-inclusive nature of the venue & services they chose!
Favorite Part of the Day:
These two had a particularly fantastic first look – it was playful, and they were so in love. They saw each other for the first time privately, in the elegant bridal suite at Green Gables Estate. It was just so them- which made it entirely perfect.
The Highlights from the Ceremony & Reception:
These two said their 'I do's' in a gorgeous glowing garden, in front of their closest family and friends. Kate & Eduardo were so excited to get married while the white rose arch was in full bloom, in early spring. Kate looked fabulous as she made her way towards her groom through a beautiful tunnel of white roses. I love that Eduardo was smiling from ear to ear the entire day! Their tented reception was held in the yard of Green Gables Estate, and guests enjoyed dinner and dancing. The couple's first dance was so beautiful, and they also chose to do an anniversary dance- which was a lot of fun.

VENDORS
Photographer: Brit Jaye Photography
Dress Store: Anthropologie
Dress Designer: BHLDN
Floral Designer: Bouquets by Bon
Event Venue: Green Gables Estate
Jewelry: Kate Spade