Calling all crafters: behind the scenes, I'm prepping for another DIY Week (since our first was so successful!) and I thought I'd add some fun into the mix and spice it up with a contest!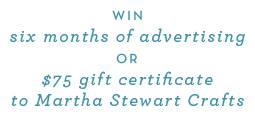 Here is the basic idea:
Submit a fresh, unique do it yourself project for a wedding by Friday, April 2, and it will be posted on the Inspired Bride the following week. Our readers will vote on the submissions and the most popular project will win either 6 months of standard size advertising or a $75 gift certificate to Martha Stewart Crafts – winner's choice.
The Details:
All submissions should be e-mailed to hello [at] inspiredbride.net, with the subject line reading "Do It Yourself Challenge Submission". They should be received by Friday, April 2, by midnight Central Standard Time.
All instructions and photos should be included in your submission email. Photos should be at least 500 pixels wide but no more than 1000px wide. Each photo should be named after the step it corresponds to.
Submissions will be reviewed prior to posting. We're looking for fresh ideas, innovative material use, and chic, stylish, unexpected projects from the smallest to the largest detail. Any projects that derive too much from previously posted projects in the wedding blog world may not be considered for posting – in this case, the author will be notified. We will do this for quality control as well as to respect the creativity of the original project developer. Additionally, crafts you have previously published on any other blog, including your own, do not qualify for this challenge.
Projects can be as ambitious or simple as you would like and can cover any wedding detail from bridal accessories to do it yourself florals to a make your own favor buffet.
Printables accompanying a project are welcome; however, projects that are only the printable (or how to construct or assemble the printable) will not qualify for this challenge.
Voting will begin at the end of the week when all projects have been published on the blog. Readers will be invited to vote for their favorites by commenting on the post they enjoyed the most by tagging it with the word "VOTE". Only one vote will be allowed per reader and each vote will require a valid email address to be counted.
Contest requires that at least five people enter and meet the publishing criteria. If not enough submissions are received, all of the approved projects will be published and no voting will occur; however, each participant will receive one month of standard size advertising on the Inspired Bride as a thank you.
If you have any questions, please comment away and I will answer them.