Jeremy and Rachel's wedding is a present to all our outdoorsy readers. The scenic view and their motif were  an excellent palette for the rustic mountain theme. The table centerpieces were authentic rustic pieces plus the unique florals blended well. Rachel is such a pro do-it-yourselfer — you can see it in their wedding gallery plus the details on each of it is down below. All compliments to Rachel for a job well done! Cheers to more laid-back moments Mr. & Mrs. Dahm!
Click image to enlarge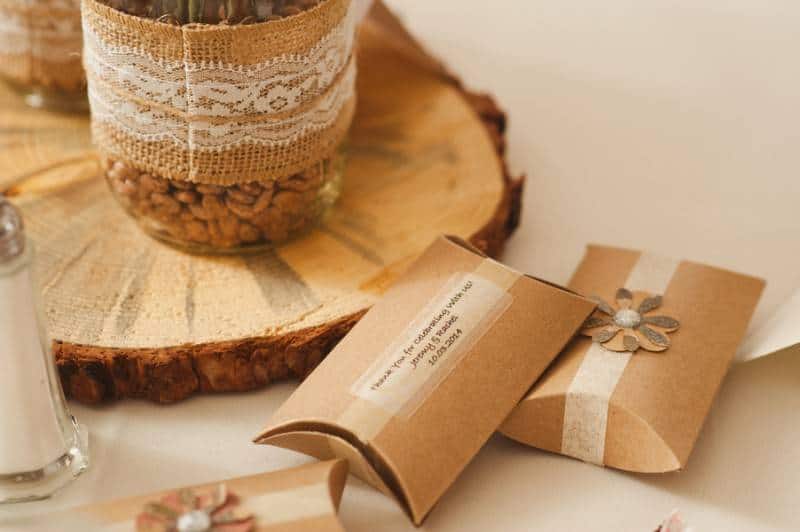 4

Like. Click to Vote
>
"We loved this wedding and the energy of the couple. The bride did so much DIY work including flowers, table decor, etc. and we love how much personality that infused into their big day. We asked the couple the following questions to give your readers a better understanding of their day and personalities."

— Nina de Zayas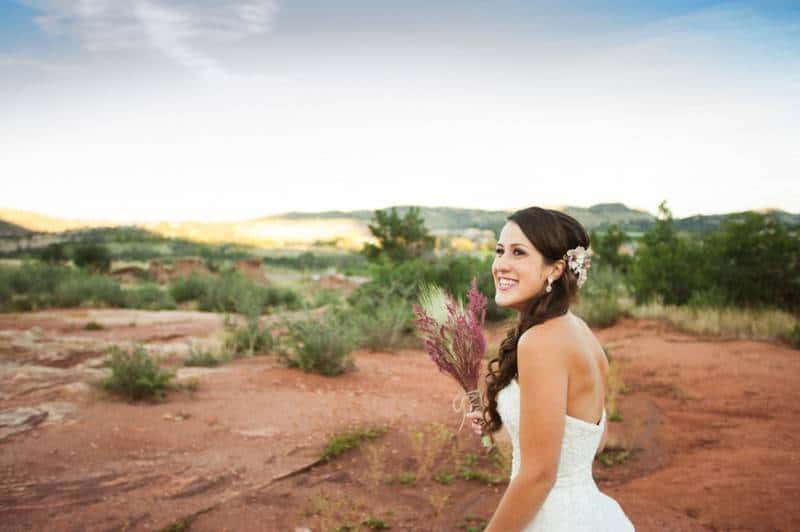 Our Story:
We worked together at a physical therapy office and started dating six months after we met. Our relationship was a secret from our co-workers, and we managed to keep the secret even from moving in together after a year and a half of dating. After three years of keeping our relationship hidden at work, I got a new job elsewhere, and we were able to let everyone in on our secret. He proposed to me on December 4th, 2014 (almost four years after we started dating). Dinner was made when I got home from work, and we gulped down it because we had plans to go out to see some Christmas lights that night. After dinner, he took me to the Denver Botanic Gardens to look at their Christmas display. (The Botanic Gardens is one of my favorite places!) It was -14 degrees that evening, so we were bundled up in our snow gear. After doing a lap around the whole exhibit, I was expecting to go home and call it a night. However, Jeremy said that he wanted to go around one more time, so we did. Halfway through the exhibit he grabbed my hand and took me over to this gazebo that was wrapped in lights. He asked if I was happy and I said that I was. That's when I noticed that he was struggling to get something out of his pocket. I started giggling because I knew what he was doing. That's when he got down on his knee and asked me to be his wife. It was an incredible night!
The Theme:
We went with a rustic mountain theme. We both love the mountains and doing things outdoors, and neither of us is very into over the top formal occasions. So the rustic mountain theme was perfect for our outdoorsy-laid-back personalities. I love all colors, so there wasn't just one particular theme color. We included a lot of neutral and fall tones.
The Do-It-Yourself Projects:
Decorations (All made by me):
Table pieces – made cross sections out of an old beetle kill tree for the base. Placed a large and a small mason jar on each tree-cross-section. Filled the mason jars with pinto beans and wrapped them with burlap and lace and jute string. Created floral arrangements for the mason jars using dried wheat and dried flowers (blue flowers for the large mason jars and purple flowers for the small mason jars).
Table Numbers – Jeremy loves climbing 14ers and has had the pleasure of climbing most of them, so the table numbers were based on all the 14ers Jeremy has every climbed. We printed off pictures and glued them to a wooden stand that we made out of dowel rods and square scraps of wood. We wrote the name of the 14er above the picture and wrote its elevation below the photo.
Bouquets/Boutonniere – Made from the same dried wheat and flowers as used in the table pieces. The bouquets were made with pink flowers, and the Boutonnieres were made with orange flowers. Used floral tape to bind the wheat and the flowers together and tied jute string around the base for added decoration. For the toss bouquet, I added a tag that said "You're next!"
Party Favors – I ordered brown pillow boxes online and filled them with old fashioned candies. I used decorative tape to seal the boxes and made flowers out of decorative paper to glue onto the outside of the boxes.
Wooden items – Bought wooden chests from Hobby Lobby that I stained and decorated with paper flowers to create the Card Box and a Ring Bearer Box. Using balsa wood and carpenters biscuit joints, I created a tree that we used as the guest book (each guest wrote their name on a leaf). I also used an old scrap piece of wood to hand paint a plaque that directed guests to the ceremony area. We bought a shadow box made out of barn wood for the unity ceremony that we filled with sawdust that was left over from when we cut the cross sections for the table pieces.
Hair/Garter – Made hair clips out of the same paper flowers that I used to decorate the card box and ring bearer box. I also made two garters out of lace and lace/burlap flowers. One garter I kept and the other garter we put around a miniature soccer ball that Jeremy kicked to the bachelors during the garter toss. We had to incorporate Jeremy's love of soccer somehow.
Favorite Part Of The Day:
I had a lot of favorite moments! But one of the sweeter moments of the day was when I was able to spy on Jeremy with his groomsmen right before the ceremony started. I could see them from the window in my bridal suite, and he just looked so happy.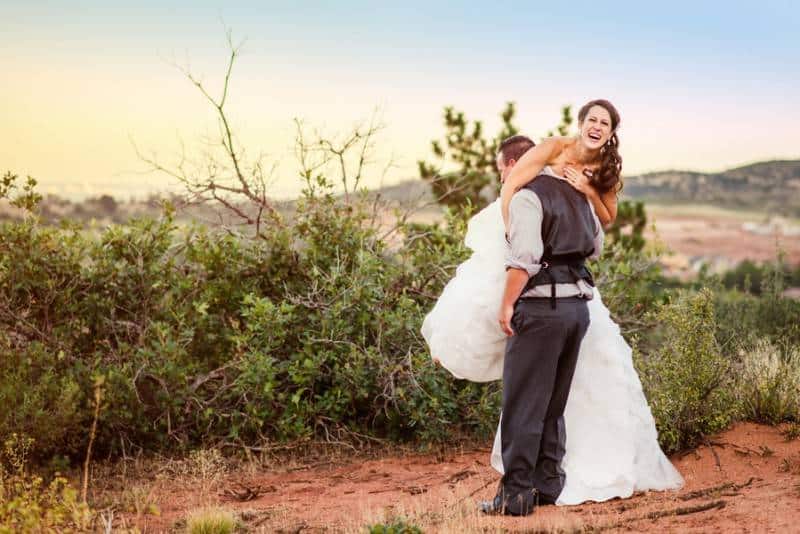 VENDORS
Photographer: From the Hip Photo
Reception Venue: Willow Ridge Manor