Phil and Miranda had a cozy engagement session. With cocoa in hand and the fireplace burning plus their sweet snuggles — they are good for fall! These two can clearly survive the cold weather with their sweetness. Phil and Miranda are so cute with their concept. Miranda even cut up the marshmallows for their cocoa to form a heart. And the mug with a sweet statement fell perfectly with that concept. Want to know how they came up with the idea? Scroll down to get the details from their photographer.
Click image to enlarge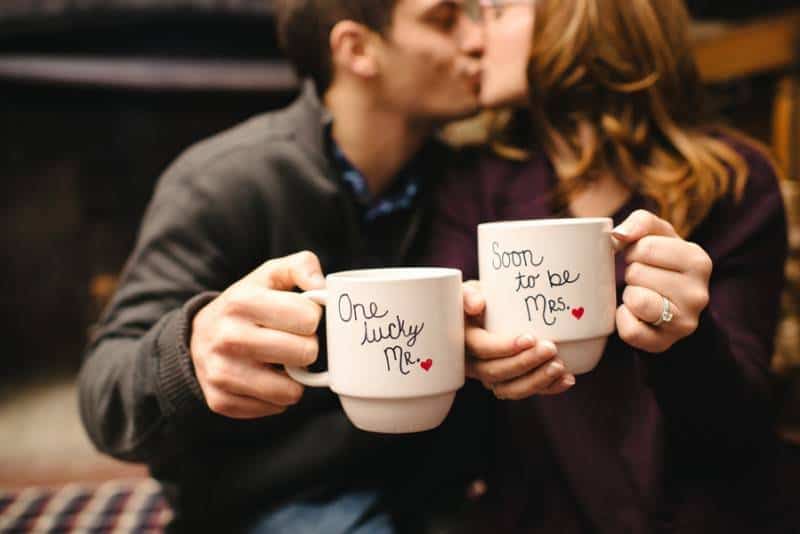 Like. Click to Vote
>
The Concept:
Miranda and Phil wanted their engagement portraits to have a very cozy and relaxed vibe, which I think was perfect because they have a very comfortable relationship and ease with each other.
The Location:
To accomplish a comfy cozy feel in the cold winter season of Ohio, we thought a fireplace would be a perfect backdrop. The historic Old Log Cabin in Youngstown was perfect, we had some fireside cocoa and snuggles and also used the surrounding property for some outdoor shots.
Engagement Session Inspiration:
I can't think of a better outfit choice then comfy sweaters and boots! I love that Miranda and Phil wanted to dress how they normally do, in their "everyday" clothes without getting all dressed up.
A Hint For The Wedding Day:
Miranda is very detail-oriented and super crafty too, so I have a feeling that attention to detail will seep into her wedding day! She actually cut marshmallows into the shape of hearts to include with their cups of hot cocoa – YES. I loved it! That little idea made for an awesome ring shot and was incredibly cute in the hot cocoa!
Directing The Couple:
Ahhhh, that is one of the trickiest things to master as a portrait photographer! You always want your subject to be at ease, but you can't make them respond that way by simply TELLING them. You have to make them FEEL at ease with you as their photographer. I do this by keeping a constant conversation as we are shooting so they don't feel trapped in awkward silence, and I tell them when I love something they are doing! I also show my clients pictures along the way so they can see what I am seeing from behind the camera! This is a huge confidence booster that always seems to help couples feel more at ease!
VENDORS
Photographer: Carlyn K Photography