Pete and Taylor's wedding was so classy ​that I wanted my wedding to be just like it. With blush and white as the motif — everything looked undeniably romantic. The beautiful peonies that ushered them down the aisle ​were a perfect touch for their outdoor ceremony. Of course, you could see the lovely flowers at the reception that make the wedding even more romantic than it already is. I'm pretty sure it was a wedding they'd hope and more. Congratulations, Pete and Taylor. Cheers to more years of celebration and love!
Click image to enlarge
Like. Click to Vote
>
Our Story:
I owned a fitness studio, and one of my clients, Sarah Gallagher, decided to play matchmaker after class one day. She said she had this friend, Pete, who could be a great match for me. Being the persuasive person that Sarah is, she eventually convinced me to agree to meet him. After about four months of getting to know Pete, we decided to start dating, which quickly escalated to getting engaged. And, as they say, the rest is history! What makes the two of you a perfect match? We have the same values and faith. We enjoy each other's sense of humor and have similar long-term goals. We genuinely enjoy each other's company and exploring new things together. Though we have different hobbies, we can appreciate the things the other does and remain encouraging. Overall, we are a huge support system for each other, and the icing is we're each other's best friend.
The Proposal:
He proposed at Shem Creek Park, close to sunset. He lined the dock that ran along the marsh with peonies, the flowers he knew I wanted for a wedding. As onlookers watched and cried for that matter, he got on one knee and asked if I'd marry him. How long was the planning process? Did you think it was enough time? I planned for a little less than a year, and it was plenty of time. Honestly, I feel like it was a bit longer than needed. Once I was two months away from the wedding, I was ready just to get on with it.
Wedding Day Outfit Inspiration:
I wanted the tux to be sharp and sophisticated with a tailored fit. I gave the bridesmaids options for different dresses, so they could have something they felt comfortable in. I also gave them flip flops to change into at the reception so they could easily dance and be comfortable.
Tips & Tricks For Future Bride:
I notice a lot of brides have a problem budgeting for their wedding. My advice for that decides what are the most important things to you for your money and put your money to work in those areas first. Whatever is left over, you can budget accordingly. Advice is a form of nostalgia, but if I were to give advice, I'd say get a fabulous photographer and videographer, and an incredible "day of" planner.
The Do-It-Yourself (DIY) Projects:
The only DIY I did was make an "In Memory" chair for my mom because she's passed. I took some of her wedding day photos and pictures of us together, framed them in different frames. I framed "In Memory of Momma" to hang as a sign on the back of the chair and had her chair at the front, so she was there with me.
Wedding Décor Inspiration:
I wanted it to be southern classic sophistication with a touch of glamor. I preferred shades of blush because it feels delicate and feminine to me. I picked large peony centerpieces but added hanging crystals to give that little touch of glam. I wanted a candy bar because I have a sweet tooth, and I included gift boxes so people could take treats home as favors.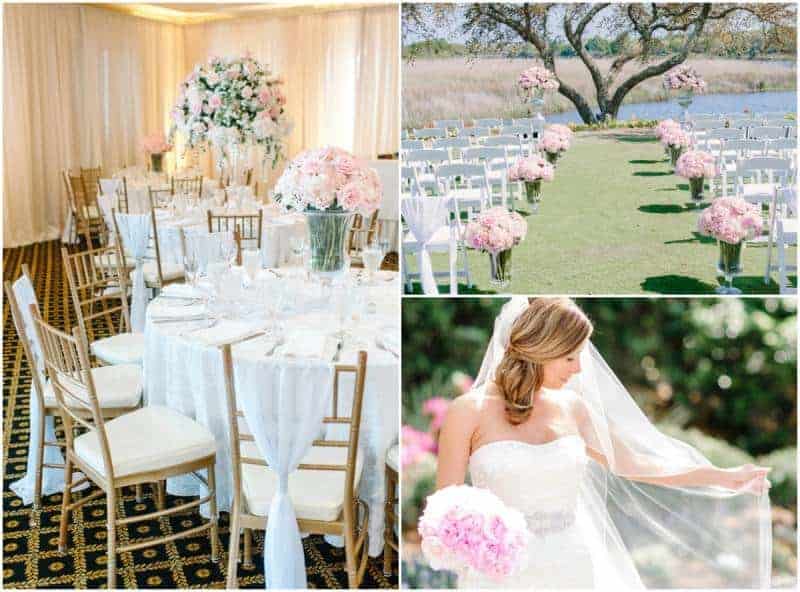 Best Advice I Received:
The best advice I received was from my friends John and Callie Casper. They said weddings and funerals bring out the worst in people, and today is not the day you worry about pleasing others because you're never going to please everyone. Please yourself on this one day and, within reason, don't worry about anyone else's opinion.
Planning Advice For Couples:
The wedding is about you and no one else. Don't let anyone steal that from you.
The Challenges We Faced:
Honestly, I didn't run into too many unforeseen challenges. That said, keep your wedding EXTREMELY organized and triple check all of your vendors that they have the proper dates, times, styles, and that they've received their payment. Always, always, always, have a plan B and C just in case. If you don't have a rain plan for your outdoor wedding, you're likely going to regret it. And make sure you're entirely happy with your rain plan so that you're not so concerned with the rain that you can't focus on the rest of the day.
Money Matters:
The Guest List:
100 were invited, and 89 was the final head count
We chose not to invite anyone that we either didn't talk to at least weekly, or we did not have a significant attachment to over the years.
The Songs:
Brides Entrance-Canon D Solo-Ava Maria a capella
Excited About:
We're just really enjoying spending the time we get together. We have many plans for fun adventures, and we've already purchased our first house together. We love traveling together and look forward to what that brings.
Favorite Part Of The Day:
The weather was perfect that day. I think my favorite part was seeing my dad and walking down the isle with him. He told me jokes as we walked down the isle to try and ease my nerves.
The Highlights From The Ceremony & Reception:
The ceremony was gorgeous! We had the most incredible weather, and everything went smoothly. The strings trio played beautifully, and the only hiccup was a little bit of wind. The reception went out until they kicked us out of the venue. Everyone was on the dance floor dancing the night away and having a fabulous time!
Most Memorable Moment:
A lot of people commented on my veil and on the reading that was read by one of my best friends. At the reception, many people commented on the speaks given. There were six speeches including one from my dad.
VENDORS
Photographer: Pasha Belman Photography
Bridesmaid Dresses: Alfred Sung
Shoes: Badgley Mischka
Floral Designer: Blossoms Events
Dress Store: Bridals by Lori
Musicians: Charleston Virtuosi
Design and Decor: Covers By Nicole, LLC
Ceremony & Reception Location: DeBordieu Colony Club
Lighting: Haus Lighting
Tuxedo and Mens Attire: Ike Behar
Cake Designer: Incredible Edibles
Makeup Artist: Lashes and Lace Bridal Hair and Makeup
DJ: OtherBrother Entertainment
Other: Pasha Belman Photography
Event Planner: Stunning & Brilliant Events, LLC
Invitation Designer: William Arthur Fine Stationery