Matt and Angela will forever cherish the day they got married and they were lucky enough to have it photographed beautifully. Looking at the photos does not only give you a glimpse of how their gray and coral wedding looked, but also how they felt for each other. And we love photos that tell stories that inspire people around the world. Read on and witness the beauty that is their wedding and the story that lead to THE day. Congratulations, Matt and Angela!
Click image to enlarge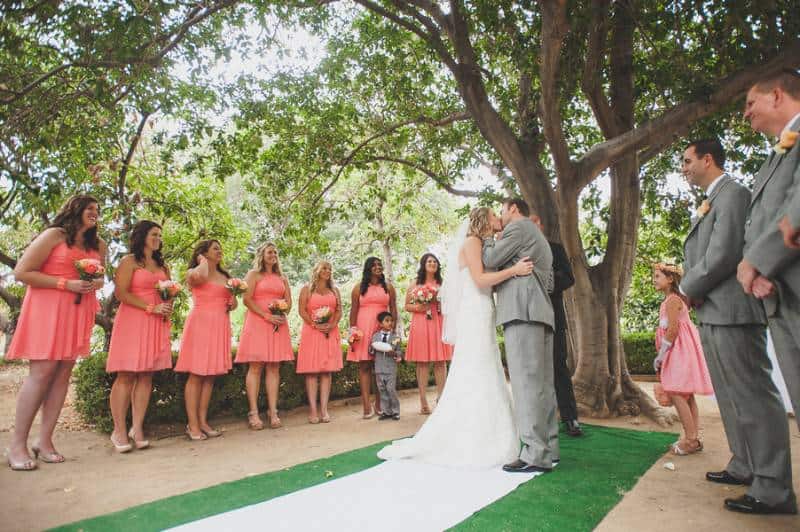 Like. Click to Vote
>
The Album Story:
Angela & Matt were such a happy couple! It was wonderful to see their smiling faces as they celebrated their beautiful wedding day in Fullerton Arboretum and Orange County Mining Co, Los Angeles, California! There was nothing more stunning than seeing this couple as they began their ceremony. Angela looked incredible in her sleek white gown and Matt looked equally handsome in his gray suit! Walking down the aisle, Angela & Matt's eyes never left one another's. Entering into a world of their own, you could tell that this moment was one they had waited a long time for.
After Angela & Matt had shared their beautiful vows and had their first kiss, they were finally husband and wife! Excitement filled the air and you could tell that everyone was happy for them! Marking the occasion by going to the reception area, it was time to celebrate! Dancing the night away, having fun cutting their delicious looking cake, and visiting with their guests, this couple couldn't have been any happier! It was amazing to see them sharing this special moment and I felt honored to be the one to capture it.
VENDORS
Photographer: Melvin Gilbert Photography
Venue: Fullerton Arboretum