From Jessica:
Working at an advertising and design agency had major perks while planning my recent wedding. My creative director was sweet enough to design all my stationery and our print producer had the save-the-dates and invitations letterpressed. With those resources at my fingertips, calligraphy was the last thing on my mind during the design process. When I received my addressed envelopes from my Etsy calligrapher, I fell head over heels in love. In retrospect, I would have loved to use calligraphy in my invitation design, as I have yet to encounter a font that rivals the graceful beauty of truly great calligraphy. Because there are so many different styles to appeal to different tastes and levels of formality, it is a great way to personalize your wedding stationery. I've collected some of my favorite examples below – let's review!
Save the Dates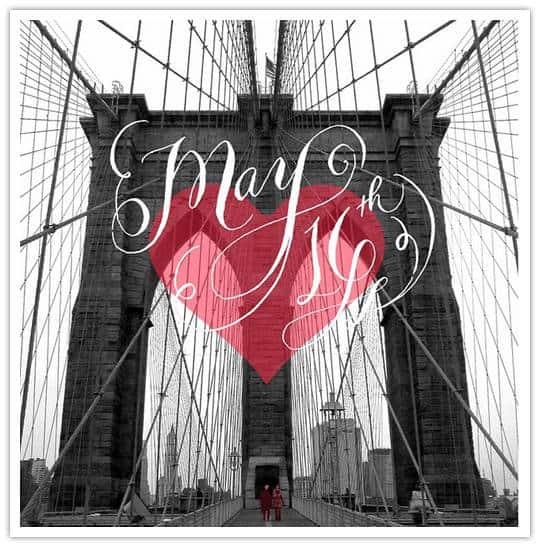 This save the date used whimsical calligraphy paired with a graphic heart to add a playful touch to an otherwise more serious engagement photo. If you weren't so lucky to have the Brooklyn Bridge as your backdrop but you'd still like to use a photo from your engagement session, consider using a more formal style of calligraphy to elevate the image.
Image from Love, Jenna.
Invitations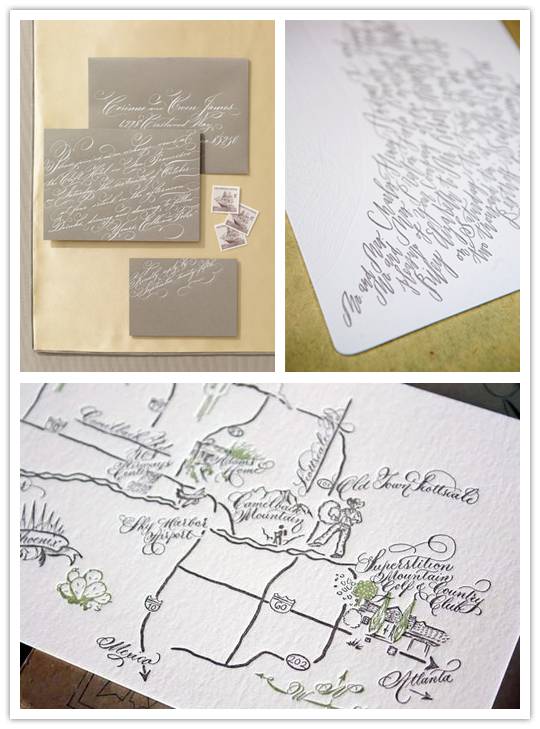 First up: from the newest issue of Martha Stewart Weddings (which you must buy if you haven't already), this suite lets the calligraphy shine..and shine it does. Perfect for a black tie affair. Next: For this New Orleans wedding invitation, the calligraphy took the shape of the host city, undulating against a blind embossed illustration of the Mississippi River. Last but not least: hand-drawn wedding maps are perfect for destination weddings or even local weddings when you're hosting a lot of out-of-town guests.  In addition to your ceremony and reception locations, have your calligrapher include your favorite landmarks, whether it's a museum or your Friday night date spot.
Images from Martha Stewart Weddings, Betsy Dunlap via 100 Layer Cake, and Danae Hernandez via Oh So Beautiful Paper.
Decor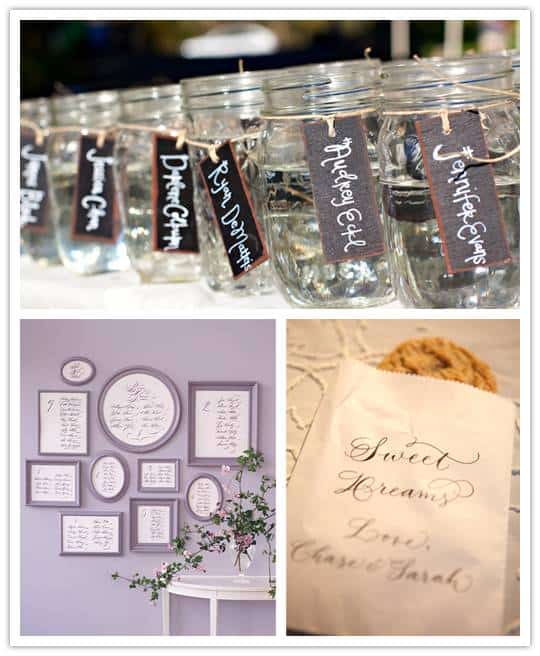 Use twine to tie handwritten place cards around mason jars,  from which guests can drink their sweet tea all night long. This casual lettering style would hit the right note at a rustic backyard wedding. Think about treating calligraphy as the art form it is, and display table assignments in mismatched frames. If you can't hang the frames on your venue's walls, consider using a wrought iron garden trellis. Last but not least, Warm cookies wrapped in parchment get an upgrade with elegant calligraphy. To top it off, have waiters pass out little glasses of milk for dipping… and please invite me to this party.
There are so many amazing artists out there, so there is no need to limit your options to your immediate area. Thanks to Etsy, I found my calligrapher across the country.
Are you planning to use calligraphy beyond your envelopes? Let us know how!
• • ♥ • •
Jessica Edwards Malish is a brand manager at a boutique branding and design agency. She and her husband live and work in New York City. As a recent bride, she fell in love with wedding styling and design and is thrilled to continue the love affair in her guest posts for Inspired Bride.