I hope you had a great Valentine's weekend filled with lots of sweets and treats. Since I'm still filling in for Maddy, I figured another delicious post was a good way to welcome you back to your work week.
As a dessert table designer, my life literally revolves around cake. I've seen cakes in nearly every hue and of every size, but I rarely see a bride opt for Bundt cake. Creating these elaborate, intricate cakes is as simple as buying a gorgeous pan. There are no limits to the flavor combinations you can create including orange cranberry, lemon, blood orange, and even chocolate bourbon! Bundt cakes are so simple to make, that I baked fifty minis for my own wedding for guests to take home.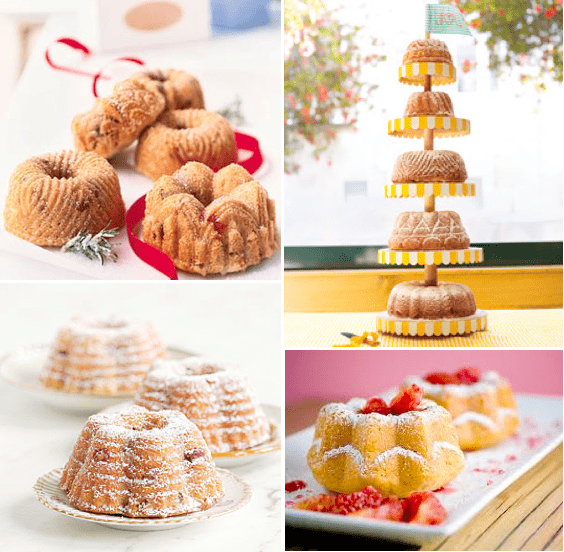 Simply dust your cakes with powdered sugar to accentuate the sculptural details. Display them creatively, whether that's on cake stands, pretty china, or en masse. For my spring wedding, I placed each mini bundt inside of mini wicker picnic basket that I lined with pastel-hued gingham fabric.
Shauna Younge designs high-end, stylized dessert tables that showcase custom sweets and unique design details. Her work can be seen on her website and blog.
image 1 My Recipes, bundt tower: Martha Stewart Weddings, image 3: Fine Cooking, image 4: Google