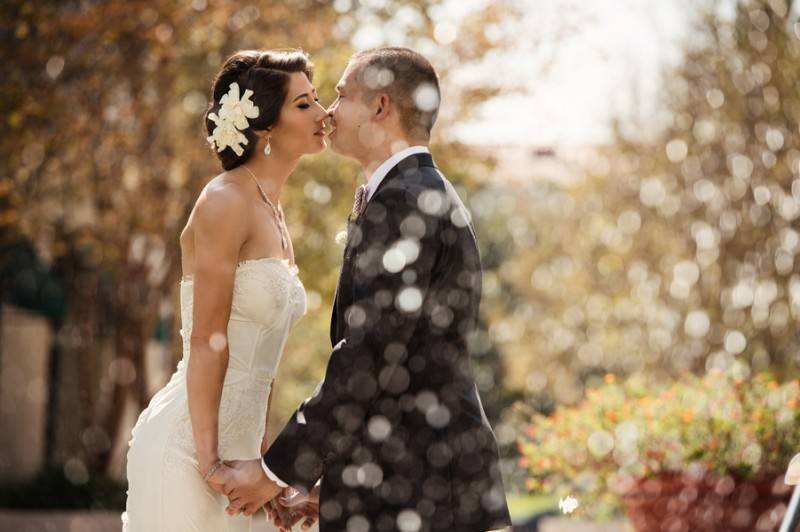 Erin & Brend are two fun and loving people whose wedding reflected their personality. The event was filled with creative and unique accents, but it did not lose it's classic and elegant touch. The decors and activities ranged from artistic to edgy to cute, but it all blended so well together and it made up for some noteworthy details. We also love the bride's dresses. I think she had four in total and all of it were beautiful – keep an eye out for all of them. But hands down, the corset bodice wedding gown was our favorite for it was just perfect and gorgeous. Congratulations Erin & Brend!
Thank you for sharing with us your wedding day insights as well.
What is your story as a couple, how did you meet & fall in love?
We were college sweethearts at UC Berkeley. We met in a community service group at the university. He proposed after 8 years together at Glacier Point in Yosemite at sunset.
What makes the two of you a perfect match?
We both love to travel and go backpacking in Indonesia, eastern Europe, Central America, Peru, Ecuador. We also love to scuba dive and we travel the world's best dive spots. In our professional lives, we're both driven, Bernd, my husband, is an IT Consultant and I am a pharmacist and I own my own independent pharmacy in Los Angeles.
What was the best advice you received when you were planning your wedding?
Roll with the punches
What tips & tricks ("hacks") can you share future brides that you yourself have learned during and after your wedding?
Designate tasks to people before the wedding so you don't end up doing everything yourself.
What were some challenges you faced while planning your wedding & what did you do to address them?
Unexpected guests and adjusting arrangements accordingly. Coordinating so many vendors together on details. If I would have to do it over I would try to minimize the number of vendors by using a full service venue or full service coordinator
What inspired your wedding décor? Why did you choose the things that you did?
The classic California summer feel. Vintage and reclaimed decor reflects both of our personal style. I also have a love for the elegance of the mid 20th Century of LA noir which inspired the dresses, hit and makeup
What was the wedding budget?
$40,000
Where did you save the most money?
We did a lot of DIY decor that our guests had made themselves at the wedding shower. We also went the garage sales to get wedding decor. Wedding dresses were custom made but we're non-designer, making each under $500
How many guests were invited in your wedding and what was the final guest count?
We invited 260 we had 230 attend
What songs did you use during the ceremony?
Wedding party procession – Jason Mraz and Colbie Caleit – Lucky
Bridal procession – Alicia Keys – Girl on Fire
Recession – Live mariachi trio
Grand entrance – The Mowglis – San Francisco
Where did you go on your honeymoon?
Bora Bora
What are you most excited about for the future?
Continuing adventures. Our families growing together.
Do you have advice for couples still in the planning process?
Start early, don't get bogged down in details.
What do you think is the overall story for this album?
A Californian summer wedding in a historical building. A casual celebration that allows everyone to let their hairs down, be a little silly and just have fun
What inspired the wedding day outfits?
California elegance. Finding the middle between glamorous and simplicity
What was your favorite part of the day?
The cupcake eating contest between the bride's party and groom's party
Was there any Do it Yourself (DIY) projects? If so, can you describe them in detail?
Homage wedding invited, programs and menus. All mis-matched China was hand collected by my family. A corn hole game hand painted. Homemade infusion mixers for cocktails- lavender and honey syrup for "the bees knees" and mint infused syrup for "mint julips". officiant mage wood chit out place card holders for dinner tables. Guests at the wedding shower made: filed napkins around dried lavender and tired with good string, place card holders for food made by cutting incisions into corks, fabric garland by tying Patel strips of fabric to twine,
decorating centerpiece boxes with speckled gold leaf.
What were the highlights from the ceremony & reception?
Officiant asked for vows from the bridesmaids, groomsmen, and guests, to support us. Each desperately having to say "I do". The reception everyone loved the mariachis and the cupcake eating contest.
Was there a theme for the ceremony and reception?
Casual vintage
Vendors
Photographer:  The Big Affair
Makeup Artist:  Beauty Affair
Floral Designer:  Floral Effect
Equipment Rentals:  Found Vintage Rentals
DJ:  Just Dance Events
Equipment Rentals:  Pretty Vintage Table
Cinema and Video:  studio 205 films
Reception Venue:  The Maxwell House