Monthly Archive::

January 2010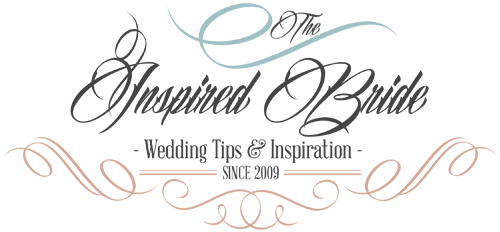 Well hello there! I'm so honored to be a guest blogger on Inspired Bride. As one of my favorite blogs, Maddy truly inspires me with her amazing finds and makes me wish that I could get married again and again!
My husband and I are celebrating our 2nd anniversary soon and I still think of our wedding day as one of the best days of my life. Though we were on a very limited budget, we were still able to make our wedding day exactly the way we wanted it. I thought I'd share a few tips today for how to have the wedding of your dreams with slender means.
Together as a couple define your top priorities and stick to them. For some it's the dress and shoes or the photography and the flowers. For us it was the stationary, the venue and the food. Remembering what was important to us made prioritizing everything else a lot easier. Also make this the first thing you do in planning your wedding, if you don't it's easy to get caught up in the moment and start to write checks like there's no tomorrow (and there is a tomorrow).
Purchase your favors in bulk and repackage yourself. To go with our theme of yellow, we found lemon tea cookies that we could buy wholesale to save on cost. Then we packaged them into clear acetate boxes and a paper band I designed to coordinate with our table. The effort was minimal but the impact was perfect.
Make an agenda for the big day. Typically this is the job for a wedding planner but if you aren't able to hire one it's good to have an idea just to be clear about your expectations. There are a lot of people involved; you, the wedding party, vendors, and it's essential to get everyone on the same page. Things are bound to go off schedule a bit but it's helpful to have a rough timeline for the the big day.
The hours leading up to your nuptials can be a bit crazy and chaotic, that last thing you want is your wedding party "hangry" from lack of food! We put together these snack boxes for each of our attendants so that they'd have something to snack on during the day. Filled with hearty cheese and crackers, a bit of candy, gum and water, they had a little bit of everything to get them through the day. Being part of a wedding can be an expensive and taxing endeavor so anything you can do to make it easier on you party will be appreciated by everyone.
Lastly, take a honeymoon! If you can swing it, I highly recommend leaving for your honeymoon shortly after your wedding. After all the planning it'll really pays off. Secondly, pick a place that won't add additional stress. We went to Hawaii – I know, real original, but it was perfectly carefree and relaxing. Without languages to translate or currencies to convert it was just us and our new wedding bands! Regardless of where you go, just try to take a trip that will allow you unwind and enjoy each other.
Every wedding is unique and special but I hope what I learned from our wedding is of some help to you in organizing yours. My time is up here at Inspired Bride, thanks again to Maddy and happy planning! If you're ever in the need for more craft fun and DIY projects please fell free to visit me over at Twig & Thistle or check out my Etsy shop for easy DIY printable and wedding crafts.
Lots of love, Kathleen
Brunch plate image from Martha Stewart. All other images from Twig & Thistle.
Hi everyone! This is Katie from Chelle Paperie again, where we spend our days making custom wedding invitations and all kinds of custom stationery.  As I mentioned in my earlier post, it's the details that I love, and the details that I think make your wedding memorable, especially when it comes to your photos.  I certainly planned my own wedding on a budget and I know what it means to get the most bang for your buck, so to all you wonderful IB readers out there, I wanted to offer you a way to get those bonus details without the added cost.  Here you will find printable versions of  table numbers (1-20) fill in the blank placecards, favor tags, thank you cards, napkin rings, welcome bag labels, and blank labels for your bar or dessert buffet.  I hope you enjoy!
Notes About Making These : I printed all of these on a 130 lb white cover stock (I would use 80lb on the napkin rings when making them again)  and cut them using a simple craft sized paper cutter and a pair of scissors.  I would suggest using an 1/8 inch craft punch, rather than your standard office supply store 1/4 inch size. The only additional materials you will need to purchase will be a ribbon of your choice (1/8th to 1/4 inch thick) and some 4bar sized envelopes for the thank you cards.  For the program covers, just print out your interior pages on text weight paper, fold them in half and either staple or tie in with ribbon along the spine.
Download:
Blank Labels
Escort Cards
Favor Tags
Napkin Rings
Program Cover
Table Numbers
Thank You
Welcome Labels
Thank you again to Maddy for inviting all of us to post this week.  It has been a pleasure!
Images from Chelle Paperie.
Hello everyone! My name is Erin Vale. I am the owner/designer of Vale Design, a freelance design company and finch&hawk®, an online shop specializing in favor box printables and paper goods. Maddy asked me to help out with a guest post while she and Kristen of Paper Crave get ready for the big launch of their new online magazine, Nonpareil. I told her "Of course. I would love to help out!" Then as soon as I hit send, I panicked! It has been a long time since I have dealt with the ins and outs of weddings, nine years to be precise! What the heck was I going to write about?!
Paper is my passion so I decided to focus my post on wedding invitations and how to prepare for designing or choosing them. Wedding invitations have changed so much since I got married and all the different options can be overwhelming. I have had the pleasure of doing some design work for Jill Sowder, owner and resident paper goddess at the stationery shop Westwood Paper in Carmel, Indiana. She has taught me and countless brides how to navigate through the world of wedding paper products. She was gracious enough to let me interview her and I am happy to share some of her words of wisdom with you. Thanks Jill! Much love lady! (If you are local, definitely stop in. She is a genius when it comes to invitation wording.)
Welcome. Give us some background about yourself and your business.
My store is located in Carmel, Indiana which is just north of Indianapolis. I've been in retail for over 20 years and opened my own store four years ago. I love the retail aspect of the business…I get to see people everyday and help them with their events. Weddings are our specialty and we can do more than invitations. Save the Dates, Programs, menus, wine labels, gifts for attendants and greeting cards are available here too.
How does being a brick n' mortar store help a bride versus online options?
The feel of the paper is so important and that just does not exist when ordering paper online. There are so many different weights, textures and colors available and a computer screen cannot let you feel anything. I have albums with invitations, swatches of papers and ribbons and many samples of my work here that can inspire a bride with her design. Spread the papers out on a table, play with the colors and you can create your own look.
Are brides choosing custom, online or album invitations more these days?
Online brides usually do not shop here until they have received their samples or actual order and want to see what else is available. Custom is probably the most requested. Sometimes we will order an invitation from an album and put it in a pocket or add ribbon and then create a custom invitation from that. Many of the invitation vendors let you create a custom invitation from their albums. Changing ink colors, fonts and color of paper are very common.
Do you see more brides doing DIY invitations? If so, how does your store help out in that process?
I don't think I'm seeing any more DIY brides as there have always been several who make their own. My advice to these brides is start early and give yourself plenty of time to assemble because brides have so many things to do and think about that they don't want to rush this part. Paper, envelopes, pockets, ribbon, etc. can be ordered through my store.
Best advice to brides on how to stick to their invitation budget?
What I usually tell brides when we first sit down is to look at their dream invitation and then start cutting out anything they can live without. You don't always need three layers of paper, ribbon or letterpress printing, for example. Reception information can sometimes be included on the invitation so the reception card can be eliminated. Also, post card responses have become more popular and accepted. Costs decrease without the envelope and postage is less also.
What should a bride bring with her to the store when choosing invitations?
Know how many invitations you need…not the number of guests. Look at the mailing list before you start pricing. Also, if you have swatches of material or pictures of invitations you like, bring them too. If a bride feels that she is indecisive, bring someone you trust who can help make decisions.
What is your recommended wedding stationery timeline? Save-the dates? Thank you cards?
Invitations should be sent about eight weeks before the date, with Save-the-dates sent about 7-8 months ahead. I also think thank you cards should be sent as soon as possible, but within four months after the wedding.
What are your favorite wedding invitation products right now? Paper? Ribbons?
I absolutely love letterpress on a soft cotton paper with a pretty design in a light color ink.
Do you see any invitation trends for 2010?
I am seeing more grey or silver paper and ink than in the past. Pockets are still popular, as is metallic paper and "bling." At least in the Midwest.
What is the number one question you are asked regarding wedding invitations?
How much does it cost. That is a very tough question since no two invitations are the same. The cost depends upon the quantity, the type of printing, the paper and if there are any embellishments.I get several calls a month with that question and I always ask that come into the store and see what is available.
Images from Vale Design.